Nha Trang is always a great destination for domestic and foreign tourists. The following is the 5 most luxurious resort Nha Trang you should not miss!
Six Senses Ninh Van Bay Resort Nha Trang
Six Senses Ninh Van Bay is a place where you can rest peacefully in a fresh, natural atmosphere with cool sea breezes mixed with the scent of the interior of trees, morning mist of the mountains and forests.
Six Senses Ninh Van Bay is a place where you can rest peacefully in a fresh, natural atmosphere with cool sea breezes mixed with the scent of the interior of trees, morning mist of the mountains and forests.
58 leaf-roof villas are scattered on the cliffs, halfway up the hill and along the beach. The special thing is that the entire villa is built of wood, the points are connected together by a dream, locked by bamboo in the style of the old house architecture, the roof is roofed with rustic and pristine coconut leaves. Six Senses Ninh Van Bay owns 6 spa villas designed on water rocks next to orchards, herb gardens combined with a quiet space of the resort, with a steam bath and sauna.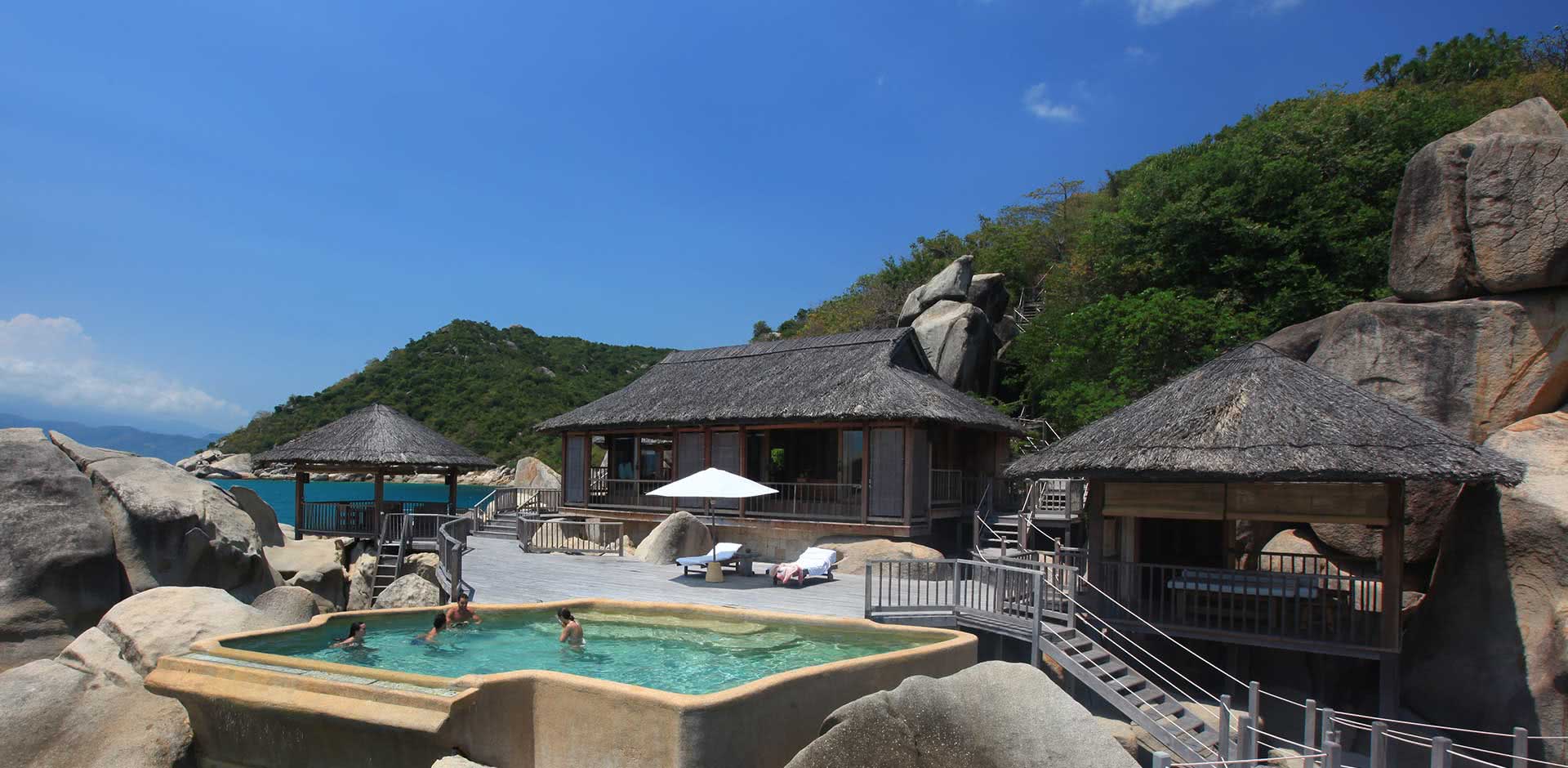 The designers have kept the pristine beauty of the nature endowed with the traditional Vietnamese architectural style, but have not forgotten the 5-star standard modern equipment to help visitors easily enjoy. relaxation, mellowness.
Nestled within the cliffs are "mountain mansions" for those who want to hide among spectacular gray cliffs to wake up with birds chirping in the groves of the rainforest. Each villa at Six Senses Ninh Van Bay has its own private swimming pool, indoor and outdoor bathing spaces. Wood material is used mainly in architectural and interior design, on wooden steps, steps, door handles made of coarse rope, coconut shells, wooden baths … creating a relaxation space. both comfortable and rustic, simple.
The Anam Resort Nha Trang
The Anam Nha Trang Resort is located on the beautiful Bai Dai beach north of Cam Ranh peninsula, The Anam is considered as a beautiful oasis of 5-star standard located on the most beautiful Bai Dai beach. in Khanh Hoa and Central Vietnam. With enchanting beauty from the feudal era, perfectly combined with the luxurious designs and high-end services of the 21st century, The Anam welcomes you to a bright, sunny beach that still remains. Vietnam's unexplored pristine beauty.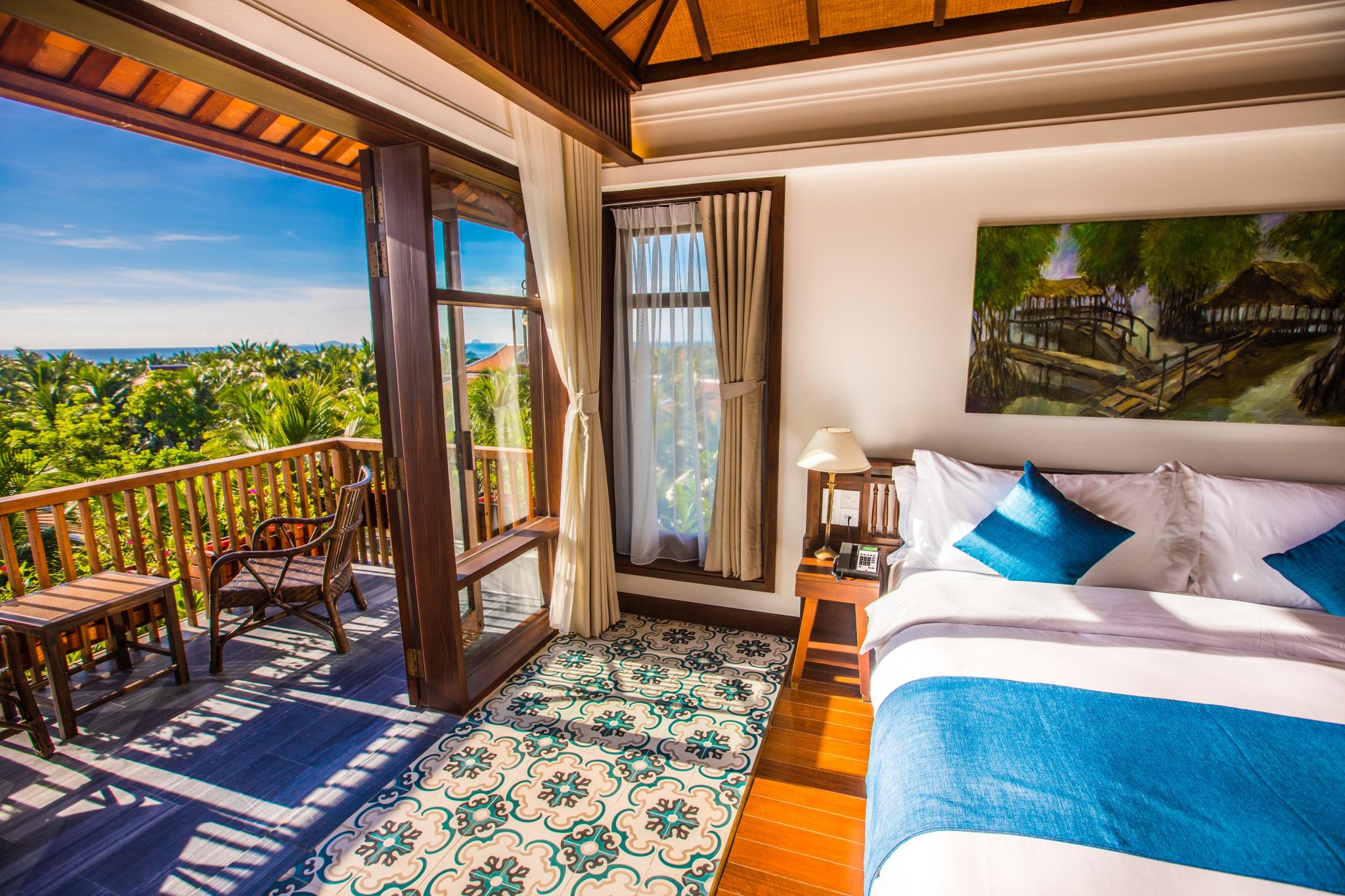 Experience the resort stretching over an area of ​​13.6 hectares, on a 12m high sand dune overlooking the beach, with 72 suites and pool villas with stunning sea views. For the first time ever, you will see a specially made floating bath and a sharp domed hammock combined with modern and elegant interiors. Especially the famous free spa service from Fusion Resort. Here you can enjoy:
Breakfast is available anytime, anywhere: A unique service available only at Fusion gives you the freedom to enjoy breakfast in your room, at the pool or at the beach at any time of the day. If you do not like to have breakfast in the room, you can dine at the Fresh restaurant with open space specializing in serving traditional Vietnamese dishes and Mediterranean cuisine.
Relax and re-energize: Coming to Fusion, you should definitely not miss the unique Spa Treatment here with exclusive MaiaVeda treatments inspired by Ayurveda's healing practices, or ChamVeDa help balance body and mind, massage with natural essential oils, exfoliate, beautify skin and take yoga classes at the gym or yoga on the beach with instructors, gym , the meditation area …
An Lam Retreats Ninh Van Bay
An Lam Retreats Ninh Van Bay is located amidst the serene mountains of Ninh Van Bay peninsula with natural waterfalls and beautiful stretches of beach, the resort offers guests a sense of privacy and isolation, while offering modern facilities and perfect service.
Designed in a architecture that is both modern and close to nature, opening a romantic sea view, 33 luxury villas here are equipped with a flat-screen IPTV TV, Espresso coffee machine, tea and mini. bar. In addition, each Villa also has a cool patio, an outdoor bathing area with shower (Jungle Rock Villas), a private swimming pool (all types of Villas, except Jungle Rock Villas) and is cared for by a professional butler.
Amiana Resort Nha Trang
Amiana Resort Nha Trang 5 * – one of the best resorts in Nha Trang, nestled peacefully next to a beautiful oasis with clear blue waters and smooth white sand, guaranteed to bring you satisfaction whether you are in Nha Trang for business or pleasure. The hotel lies 8.0 Km from the city center and provides accessibility to important town facilities. A well-kempt environment and its proximity to Nha Trang Bay, Po Nagar Cham Towers, Spa Pure Vietnam give to this hotel a special charm.