Vietnam is not only famous for beautiful landscapes but also for delicious dishes. This article will give information for the readers about the most flavorful Vietnamese food are highly estimated from the culinary specialists all around the world. 
1. Bun Cha
7 years ago, Bun Cha was considered as one of the most delicious street food in the world in accordance with the well-known tourist site named National Geographic. The piping hot grilled meat mix with consommé is prepared precisely and fresh vegetables generate such a delicious taste that all people cannot forget.
2. Bread
This is such a familiar Vietnamese food that people living in this country all have a chance to enjoy. This dish has a crispy crust combined with a soft part of bread can be used with milk or mixed with meat, sausage and vegetables inside. If you like acrid taste, you can add some chili sauce in the soft part of bread.
At the present, Banh Mi are being made and sold availably in ovens as well as bakeries with various tastes and shapes. Moreover, the price of items are also diverse for customers comfortably choose and enjoy (from 3,000 VND to 60,000 VND).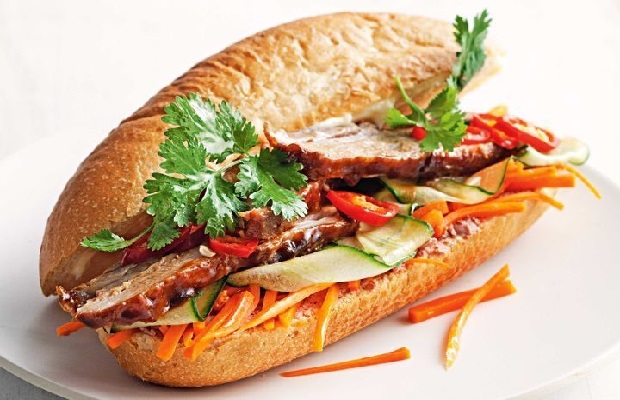 3. Pho
Pho is a long-standing dish of Vietnam and up to now, nobody have known exactly the origin of this special dish. Nowadys, Pho is appeared eveywhere, from small food stall to luxurious restaurants as well as sophisicated hotels.
Nevertheless, in case you want to enjoy a delicious bowl of Pho, please go to Hanoi, where concentrated the old quarters having esoteric recipies have been passed from generation to generation as well as innovated endlessly.  When talking about Pho, it must be mentioned Hanoi because this place has preserved culinary quintessences in cooking Pho with elegant taste and sweet-smelling consommé and it is extremely ideal when enjoying a bowl of Pho in the moning of the winter. On the contrary to Pho in Ha Noi, Pho in Sai Gon is added beansprouts and fennel beside beef (or chicken) and onion.
4. Banh Xeo
Banh Xeo is also an accustomed Vietnamese food, especially with Middle and Southern residents, but each area has a dissimilar way of making this dish. Banh Xeo in Southern area is bigger than that in Central, however, this dish in both regions all has a crispy skin combined with beansprouts, shrimp and minced meat and will be used with raw vegetables. In addition, sauce is also used to increase taste of this dish.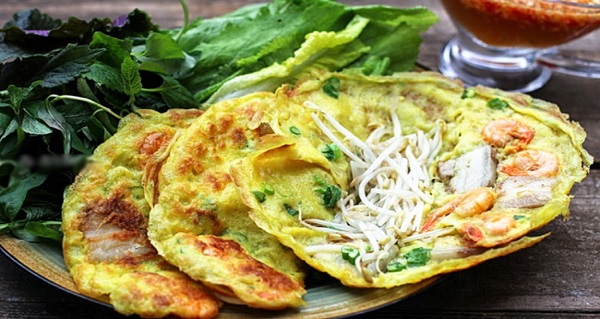 5. Bun Bo Hue
Talking about cuisine of Central, it must refer to Bun Bo Hue. The particular taste of Hue Citadel is created by the wonderful combination of sweet broth, beef, trotter and beef-pie is not only memorable with Vietnamese residents but also attractive foreigners.
6.  Steamed Rolled Rice Pancake
This is a popular Vietnamese food for a breakfast because of delicious taste, acceptabe price as well as easy to find. Each region will have a particular method of making steamed rolled rice pancake.
In Hanoi, this dish has a delicate skin and add minced meat and wood-ear mushroom inside, eat with roasted cinnamon pork. The steamed rolled rice pancake in Nghe An is made by the same way, however, the residents in here use this dish and pork-pie together.
By contrast, people in Thanh Hoa province make this dish according to a special way. The skin of steamed rolled rice pancake in Thanh Hoa is thicker than that in Ha Noi and inside will be added shrimp and minced meat. However, this dish will not be without an essential ingredient, this is shallot. If you want to add vitamin, you can eat steamed rolled rice pancake with raw vegetables.