Halong Bay is one of the tourist destinations and famous landscapes attracting domestic and foreign tourists.
Introduction to Ha Long Bay
Halong Bay is a small bay, including the sea and islands belonging to Ha Long city, Cam Pha city and a part of Van Don island district, Quang Ninh province. Possessing the charming natural scenery and rich biological system, this place was recognized by UNESSCO as a world natural heritage in 1994.
Halong Bay is limited to the 1,553 square kilometer section. Which includes 1,969 islands of all sizes, mainly limestone islands. Especially, the core of the bay is a gathering place for about 775 dense islands, creating a very lively picture of nature. With a total of 1,969 large and small islands in Halong Bay, only about 40 are inhabited. The population concentrates mainly in fishing villages such as Cua Dai, Ba Hang, Pair De fishing villages.
The area with many beautiful rocks and caves in Ha Long Bay is the core area (the center of Ha Long Bay), Lan Ha Bay (the buffer zone) of the Cat Ba archipelago and a part of Bai Tu Long Bay. Each island on Ha Long Bay has its own shapes such as: Trong Mai, Dau Ngu, Canh Buom, Con Coc, Ga Choi, Ngoc Vung, … Some famous caves in Halong Bay Long must be mentioned such as: Sung Sot cave, Thien Cung cave, Dau Go cave, …
Thanks to the natural conditions and advantages, Ha Long Bay has become one of the attractive tourist destinations for domestic and foreign tourists.

Cuisine of Ha Long Bay
Squid rolls
When goinf to Ha Long, if you ask the people "What is the best thing to eat in Ha Long"   , most of the answer will be squid rolls. Squid rolls are fried in gold and can be eaten with rice, sticky rice or rice rolls. When eaten, there is a sweet taste of fresh squid, crunchy and aroma of spices. Some famous squid patties restaurants in Ha Long such as Minh Hoa squid sticky rice, Co Hue squid spring rolls.
https://www.cet.edu.vn/cong-thuc-lam-cha-muc
Sam 
Sam is the same last name as Crab but has a shell and bigger. The most special thing is that Sam often goes together in pairs, so both when catching and processing people often catch and process in pairs. Some Sam dishes you should try when coming to Ha Long such as: steamed sam, stir-fried sam with lemongrass and chilli, crispy sam, sam salad,…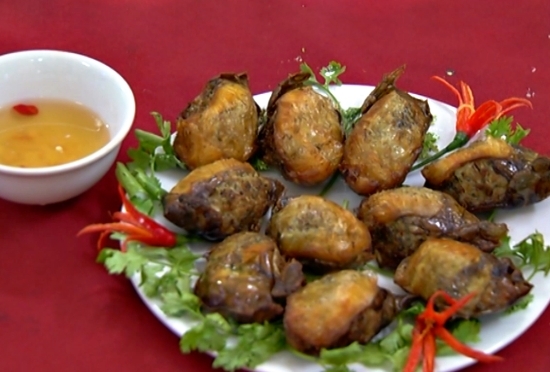 Vermicelli stir-fry
This is one of the famous dishes in Ha Long. Fried rice noodles include fried vermicelli with black meat, wood ear, shiitake mushrooms and onions. When eaten, there is a strange aroma of meat, both mouth and harmony of different flavors.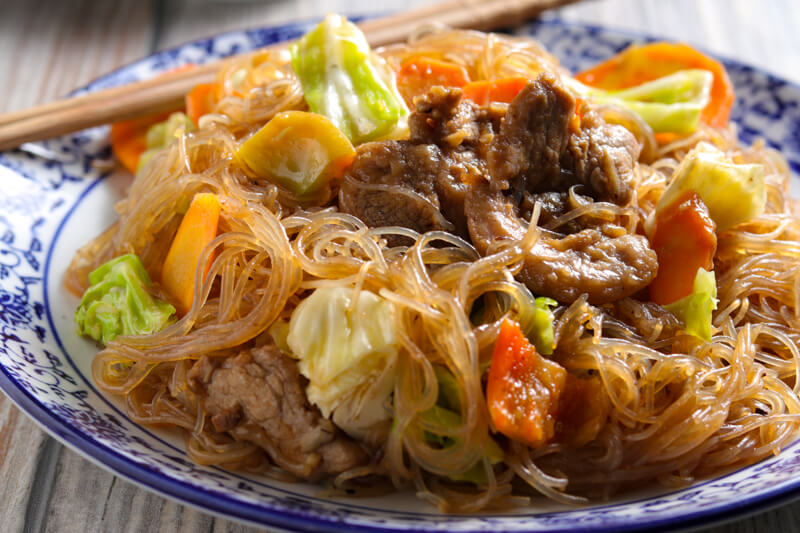 Ha Long bubble yogurt
Pearl yogurt is not only famous in Ha Long but even in Hanoi and Saigon, Ha Long pearl yogurt has become a private brand that is especially loved by young people. So when coming to Ha Long, you must definitely try genuine Ha Long pearl yogurt. When eating, the owner will bring you a jar of homemade yogurt to cool and a bowl of pearls, coconut shavings and coconut milk. You will mix them well and enjoy. The fragrant Ha Long pearl yogurt flavor cannot be mixed with other places.
Which souvernirs tourists should buy in Ha Long Bay?
If you want to buy specialties from Ha Long as gifts for your friends and relatives, you can choose specialties such as squid rolls, grilled pork belly cake, fresh seafood, shrimp shrimp rolls, sticky rice wine soaked , … is very suitable.
However, it should be noted that when buying fresh seafood, you need to tell the seller to pack and refrigerate it carefully to ensure that the food is still fresh when you bring it back. Those who are too far to travel by air when traveling to Ha Long Bay should not buy gifts of fresh seafood because the transportation on the plane is quite complicated, in addition, the long travel distance can affect to the quality of the seafood. You should prioritize dry canned food for convenience.